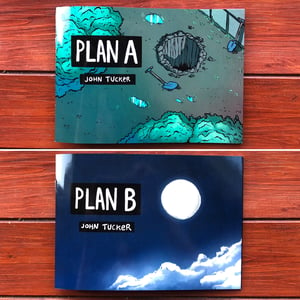 £

3.00
Plan A, the story of escaped convicts on the hunt for a priceless ruby; Plan B, the story of two brothers trying to do right by their recently deceased father.
Both stories are printed in one book, with a front cover on each side. Printed on silk stock with a glossy card cover, it's two comics for the price of one and represents terrifying value. 32 pages, full colour.
What The Press Said
"Has a strangely practical sense of logic to it's narrative. It makes sense to the reader although often it really shouldn't... The art is bold and accomplished and cartoony. It fits with nobody else out there and has a level of quirk that you will warm to immediately.
I look forward to everything John puts out."
- Tony Esmond, Never Iron Anything/The Awesome Comics Podcast
"Another delightfully daft story from Tucker, with his usual quirky ideas and daft visuals... a must read."