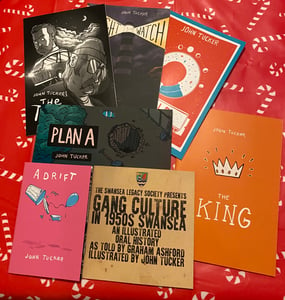 £

15.49
Looking to just pick up a big stack of comics? A fat wad of some of the weirdest work on the market today? A huge load of books described by critics as both "brilliant" and "profoundly worrying"? A fat handful of "pioneering social realist absurdism"? Sure.
Well with THE WORKS, you can, as you can get all seven of my titles for £15.49 delivered in the UK, a £5 saving over buying each individually (including some out-of-print treats - once they're gone, they're gone). It includes:
- The Taxi (out of print!)
- Bald
- Night Watch (out of print!)
- Adrift
- Gang Culture In 1950s Swansea (out of print!)
- Plan A/Plan B (a double-sided flipbook that meets in the middle - two stories for the price of one, "a bargain")
- The King
They're all self-contained stories so you don't need to read a load of backstory or lore to get into it, and they're all just weird stories about normal people. Just get in, read it, enjoy it, move on. We're all busy, and I feel my titles respect that.
Don't worry about the Christmas tablecloth pls, I took this picture in December and cba taking a new one